Current Trends in the Processed Food Industry
Dinesh Gupta, Director, Bry-Air | CXO Outlook | September 06, 2021
Mr. Dinesh Gupta, Director, Bry Air (Asia), a flagship company of the Pahwa Group, has over 3 decades of experience in Indoor Environment Control. He has specialized in application and engineering of environment control equipment like dehumidifiers, energy recovery system and airgineering systems. His papers on humidity control, energy recovery systems and IAQ have been published in various technical journals. Mr. Gupta has delivered many paper presentations and seminars on related subjects in India and overseas which have been published in many international technical journals. Mr. Gupta has been instrumental in many overseas initiatives for the Pahwa Group covering establishing of wholly owned subsidiaries in Malaysia, China, Brazil & Nigeria and own network of marketing offices in various key markets.
The food processing industry is one of the largest sectors in India in terms of production, growth, consumption, and export. The Indian food processing sector was valued at US$ 328 billion in 2018 and is expected to reach US$ 535 billion in 2025-26.
It is expanding at a CAGR of 11% and the sector accounts for 32% of the total food industry. In the last few years there is a paradigm shift in consumer trends due to a global demand for food safety.  In today's context, more and more people are looking for food products that has nutrition, taste, convenience and value. The other trend which is significantly rising that a lot of unpackaged food will move to packaged food due to the lifestyle changes.
With the shift, F&B industry lays a lot of focus on the quality, processing and packaging of the end product. Ensuring that the food item meets all the necessary standards and checks before exported. The focus on the overall quality has made majority of the industry players realize the importance of investing in sophisticated technologies. To manage the growth fuelled by consumer demand of packaged ready to eat, hassle-free food, these players are quickly adopting environment control solutions that are used at various steps of food production, until packaging and storage.
However, it is not easy to maintain the packaged food. Most processed food like candies, jellies, gums, snack food, powder food, instant coffee, dried fruits and vegetables, spices, and other packaged foods have one thing in common, they are all hygroscopic and sensitive to high relative humidity.
Moisture absorption during storage in food products not only alters their appearance but foods usually become less appetizing and appealing. The most common and prevalent issue food processing companies face is related to moisture. Inconsistent production, longer drying time, loss of key characteristics of the food product, etc. are some of the common problems faced by them thereby leading to frequent downtime of production units, rejections and losses. Uncontrolled humidity plays a spoilsport in maintaining the taste, flavour and shelf life of these convenience foods. Therefore, it is imperative to address the threat of moisture during product processing, packaging and storage.
In confectionery food items such as chocolates and sweets, moisture can affect the quality right from the point of storage to processing and storage of the finished chocolates. While processing if moisture absorption place,  it leads to loss of gloss or lustre, sticky or grainy surface, sugar bloom and change in flavour.
Similarly, coffee powder picks up moisture from the surrounding air which causes lumping. This not only obstructs the free flow of the coffee powder during processing and packing but also reduces the aroma and shelf life of the coffee.
Micro-organism growth is also one of the main causes of potential food contamination. Moisture results in increased micro-organism growth. Microbial growth and dispersal can be controlled if the surroundings and the food processing machinery and equipment inside the food processing plant and food processing facility are kept dry. But keeping a plant dry is not easy as water is an essential part of the product and process of food processing.
Hence, desiccant dehumidifiers are the biggest saviour, and all major food industries are using dehumidification as the primary solution to deal with the menace of moisture.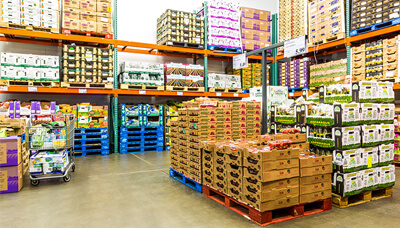 If one adopts to a proper dehumidification process it ensures optimum humidity control as required by the process and are dependable, efficient and versatile. Dehumidification allows smooth powder flow even during periods of high humidity. Desiccant based dehumidifiers lower the moisture content of the surrounding air maintaining RH at a constant level regardless of the ambient conditions during the production, storage and packing to help improve the quality and retain the freshness of the processed food longer.
Desiccant Dehumidifier not only maintains the required humidity level but also ensures cleaner production environment as well cold store areas, as the desiccant provided in the dehumidifier prevents microbial growth or fungal growth. The use of our systems dramatically reduces the sanitation cycle time, prevent frost and ice build-up in evaporator coils at cold storage/ freezer areas and spiral freezers. Bry-Air Desiccant Dehumidifiers are designed to comply with the most complex and critical requirements of high humidity and moisture removal/ regain during manufacturing.