By: Deepak Pahwa, Managing Director, Bry-Air (Asia) | Energetica-India | Saturday, 10 October 2020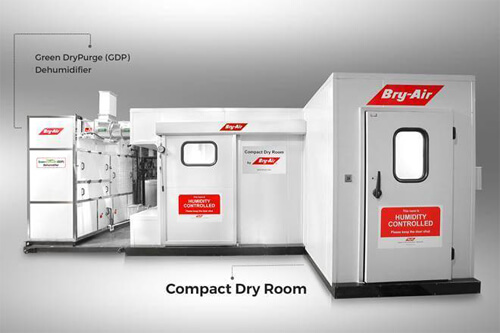 In the recent past, we have seen a significant drop in the energy usage and the air we breathe becoming far more clean and fresh. Diligent usage of energy and conserving the mother nature has been at the forefront and Indians are actively ready to join the mission to do better for the earth and stand united in their commitment towards a greener planet. In fact, the Indian brands and citizens left no stone unturned in flooding the social media showcasing their environment friendly initiatives on Environment Day and Earth Day and are continuing to do so.
The COVID-19 pandemic and its awakening of conscious thinking in all we do, has brought back the focus of the entire world to the importance of harnessing the natural resources such as solar, wind and thermal and store them to meet the future requirements, which is rather uncertain. As per Lux Research, the total energy storage market is expected to grow to $546 billion in annual revenue by 2035. The report goes on to mention the key innovative technologies, such as solid-state batteries and flow batteries as they reach commercialization would be the major source of growth.
India, too, is making great strides in the energy storage space and the active participation of the government has further strengthened the industry's determination to store renewable energy sources. To conserve the power generated by these renewable sources 'Lithium' is a critical element used in the battery technology that underpins much of the world's consumer electronics, electric vehicles and energy storage systems.
Atop that, the rise in awareness towards 'green technology' the consumers and the brands have catalysed the demand for eco-friendly products and technologies. However, to be truly able to reach the essence of the energy storage mission also includes the judicious use of energy available and its conservation. You will see various industries and sectors that are highly energy intensive and being able to solve the need of the sector with energy efficient technologies is where lies the role of companies like Bry-Air and Desiccant Rotors International (DRI), the flagship companies of the Pahwa Group.
Bry-Air is the leader in dehumidification worldwide and has been at the forefront of energy-smart adsorption and airgineering technologies since the very beginning. With over 55 years of experience, Bry-Air is a global leader in manufacturing of large industrial energy-efficient products such as dehumidifiers & dryers, gas phase filtration systems, high-temperature waste heat recovery wheels, plastic auxiliary equipment, dry rooms critical for lithium battery production and adsorption chillers. The other flagship company, Desiccant Rotors International (DRI) is a global provider of components, products and systems for energy recovery, IAQ, fresh air treatment, evaporative cooling, humidification, RH control and green buildings.
The company's product offerings are highly customised and engineered to the needs and satisfaction of the customer. With a vast installation base and diversified portfolio catering to almost every industry, Bry-Air, where innovation is life, has always been ahead of its time and likes to be a front runner in all new technological advancements related to its businesses.
An active participant in India's EV push, Bry-Air is also a preferred partners for battery manufacturers/assemblers. With moisture control being the most critical aspect of li-ion batteries while manufacturing, the availability of cost effective, energy saving solutions is where Bry-Air has a major role to play. Our patented Green DryPurge® (GDP) has played a key role in Li-Ion battery manufacturing across the world and has helped the manufacturers in creating the required environmental control to make quality, safe and long lasting batteries. Our ultra-low dew point GDP dehumidifiers have today been benchmarked for world-class moisture control, are cost effective and are highly energy efficient, making them a value proposition for any manufacturer.
In India, too, we supply dry rooms with environment control equipment for low dew point dehumidifier requirements to some large multi-national conglomerates such as Amara Raja and government owned organisation such as DRDO, and BHEL.
With efficient energy becoming a national cause R&D has taken a more significant role in coming out with products that are futuristic and cater to the needs of industry. Working in this direction, Bry-Air BrySmart series (BBS) Dehumidifiers are the latest product offering from Bry-Air. Embedded with patented BrySmart® technology, these dehumidifiers integrate 4.0 tomorrow based concepts that reduce annual energy consumption by up to 48 percent. Other than lower energy usage & maintenance cost, these dehumidifiers run on green-tech, incorporate BHP™ Technology that customises rotor to deliver an additional energy saving of up to 20 percent by reducing initial react energy input for the equivalent performance of standard dehumidifiers.
These energy smart dehumidifiers come equipped with the Dynamic Specific Performance (DSP) that enables them to continuously sense and monitor temperature at varying locations rotor thus providing data for continually optimizing performance and furthering the cause of saving energy while delivering value to the customers and stay ahead of the curve. The BBS Dehumidifiers can be remotely monitored & controlled and has an optional Bry-Air Prognos™ feature, an advanced tool for predictive maintenance. Bry-Air's products are "Made with Pride in India" – for India and the World.