Bry-Air, Today is the world's fastest growing adsorption technology group in the world
By: Deepak Pahwa, Managing Director, Bry-Air | Emobility+ | Jan-Mar 2020 Issue
Could you give our readers a brief introduction of your company?
Bry-Air, the leader in dehumidification… worldwide, is a global solution provider for:
Humidity control, moisture removal and product drying
Dry room solutions critical for lithium battery production
Gas phase filtration
Plastics drying and conveying
High temperature waste heat recovery and
Adsorption cooling
Bry-Air, today is the world' s fastest growing adsorption technology group in the world and has over five decades of experience in applications, manufacturing, engineering and R& D in the field of dehumidification & environment control solutions, with subsidiaries in China, Malaysia, Brazil, Nigeria and Switzerland, and an associate plant in the USA.
With installations in over 85 countries in almost every industry and supported by a robust sales and service network worldwide, Bry-Air touches people's lives round the clock.
Bry-Air has a full- f ledged R&D centre that is recognized by the Department of Science and Technology, Government of India and is undoubtedly one of the finest in the industry. Bry-Air has filed many international patents and several of them have been granted. The Group has filed 123 international patent applications in 13 new technologies (since 2007 ), of which 48 patents have been granted/allowed already. Bry-Air is one of the flagship companies of the Pahwa Group, where innovation in technology and business processes is the driving philosophy.
Bry-Air is the leader in dehumidification worldwide. Could you please elaborate on the importance of dehumidification in cell manufacturing for batteries and its indirect effect in the EV sector?
With India' s unequivocal commitment to a better future, the automotive industry is now focused on fast growing its capacities to be a self sustainable Electric Vehicle (EV) manufacturer with all technology/materials/ machinery/dry rooms being available for enhancing and driving the needs of next gen Indians.
Other than the vehicle itself, the other very crucial aspect of making EV a success in India is the manufacturing of its for the next few years the raw material driving the market and in immense demand across the globe is, Lithium and related battery materials.
There are four critical legs on which the lithium battery production space stands on:
Technology
Raw material/other inputs like battery separators
Machinery and
Dry Rooms
Lithium battery manufacturing is a very critical process and requires ultra low dew point conditions for production. The production of the Li-ion cells which are further bundled to create a battery is a critical part and all plants in India as we speak are just assembling the batteries not producing them. The production of these cells requires Dry Rooms with environmental control equipment which can help achieve < 1% RH conditions.
As a key industry stakeholder working in the Transformative Mobility and Energy Storage space, in the field of providing Dry Room technology, which is critical for lithium battery manufacturing, Bry-Air is well equipped as a made in India dry room technology supplier offering patented solutions to cater to the growing EV battery manufacturing marketing.
The Group has filed 123 international patent applications in 13 new technologies (since 2007), of which 48 patents have been granted/allowed already.
Bry-Air is one of the flagship companies of the Pahwa Group, where innovation in technology and business processes is the driving philosophy.
What have been some of the recent developments at your organisation in the e-mobility & energy storage sector?
In l ight of recent developments, there is heightened interest in the EV industry and Energy Storage space, not just in India but globally too. As we all set out for a better future, the discussion on manufacturing of lithium-ion batteries for EV and efficient energy storage has taken the center stage.
India produces solar, thermal and wind energy in abundance and hence has huge potential in its production and conservation for further utilisation. With the government also laying emphasis on reaching full potential in energy production through new-age sources, the progress in its storage through Li-ion batteries is evident.
While moisture control remains the most critical while manufacturing lithium-ion batteries, it is imperative to have cost effective, energy saving solutions too.
Bry-Air's patented Green Dry Purge (GDP) has played a key role in Li-ion battery manufacturing across the world and has helped the manufacturers in creating the required environmental control to make quality, safe and long lasting batteries.
Our ultra- low dew point GDP dehumidifiers have today been benchmarked for world-class moisture control, are cost effective and are highly energy efficient, making them a value proposition for any manufacturer. As a key participant in lithium battery manufacturing, we at Bry-Air and the Pahwa Group, aim to become a partner for the Government to drive progress in the energy storage space.
Our dehumidifying solutions are born out of our innovation first approach. The Green Dry Purge® ( GDP) dehumidifier from Bry-Air, is the most efficient and economical solution to provide dry air required for Lithium-battery production. These dehumidifiers are specially designed to control moisture levels in the lithium-battery manufacturing areas f rom -40 °C to -80 °C dew point depending on the process being carried out.
Bry-Air has always been ahead of its time and likes to be a front runner in all new technological advancements related to its businesses. The knowledge and experience we have gained is continuously put to use in helping our customers achieve their business goals – Profitability, Productivity and Sustainability.
How Bry-Air's patented Green DryPurge (GDP) has helped lithium ion battery manufacturers in creating product as per the standards along with long lasting shelf life?
Bry-Air has the capability to build state-of-the-art Dry Rooms, and provide a complete solution for achieving low dew point control for your hygroscopic and moisture sensitive material processing. We are the only total solution provider for dry rooms with environment control equipment incorporating patented technology critical for Lithium battery manufacturing. As mentioned above, Bry-Air has the product and global standard technology for dry rooms. Our dehumidifiers are powered by the Green Dry Purge (GDP) dehumidifier technology which is the most energy efficient dehumidifier for <1% RH dry rooms is patent of Bry-Air (Asia).
Bry-Air's Green Dry Purge® ( GDP) patented technology for dehumidifiers ensures optimum performance of dehumidifiers, even at the ultra-low dew point, upto (-) 80 °C. Rotor made up of pH neutral and chemical resistant material. Inertness to gases such as Hydrogen Fluoride (HF) generated during the production of Lithium- ion batteries.
What is Bry-Air's growth vision for the year 2022?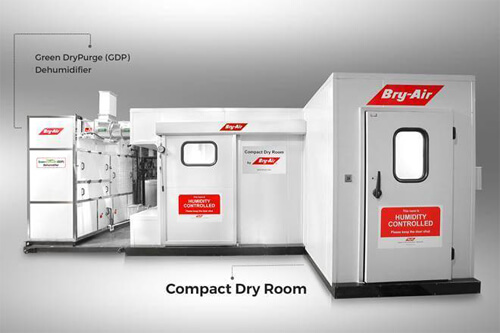 "Innovation is Life" is the driving philosophy of the Group and at Bry-Air we strive to deliver forward-looking solutions that enable our customers to increase productivity at a low cost, higher throughput within limited resources, and reach economies of scale.
We consider the ever-evolving needs of the industry as an opportunity to do more and serve better. Our solution oriented approach towards the humidity and moisture control problems faced by the customer has helped us stay ahead of the curve. It has helped us attain leadership positions in chosen fields.
Over and above that our knowledge and experience gained in over 55 years has helped us serve our customers in achieving their business goals across the world.
How do you see India's EV sector evolving in the next couple of years?
With India' s resolution to become an EV first nation by 2030, India gets to ramp up its Lithium cell production capabilities by 2025. With in- house capabilities to build these cells, India should be able to bring the cost down for its e-mobility solutions and bring about that change in overall transpiration habits of the country.